Pathos als Distanz
Deichtorhallen, Hamburg
Share on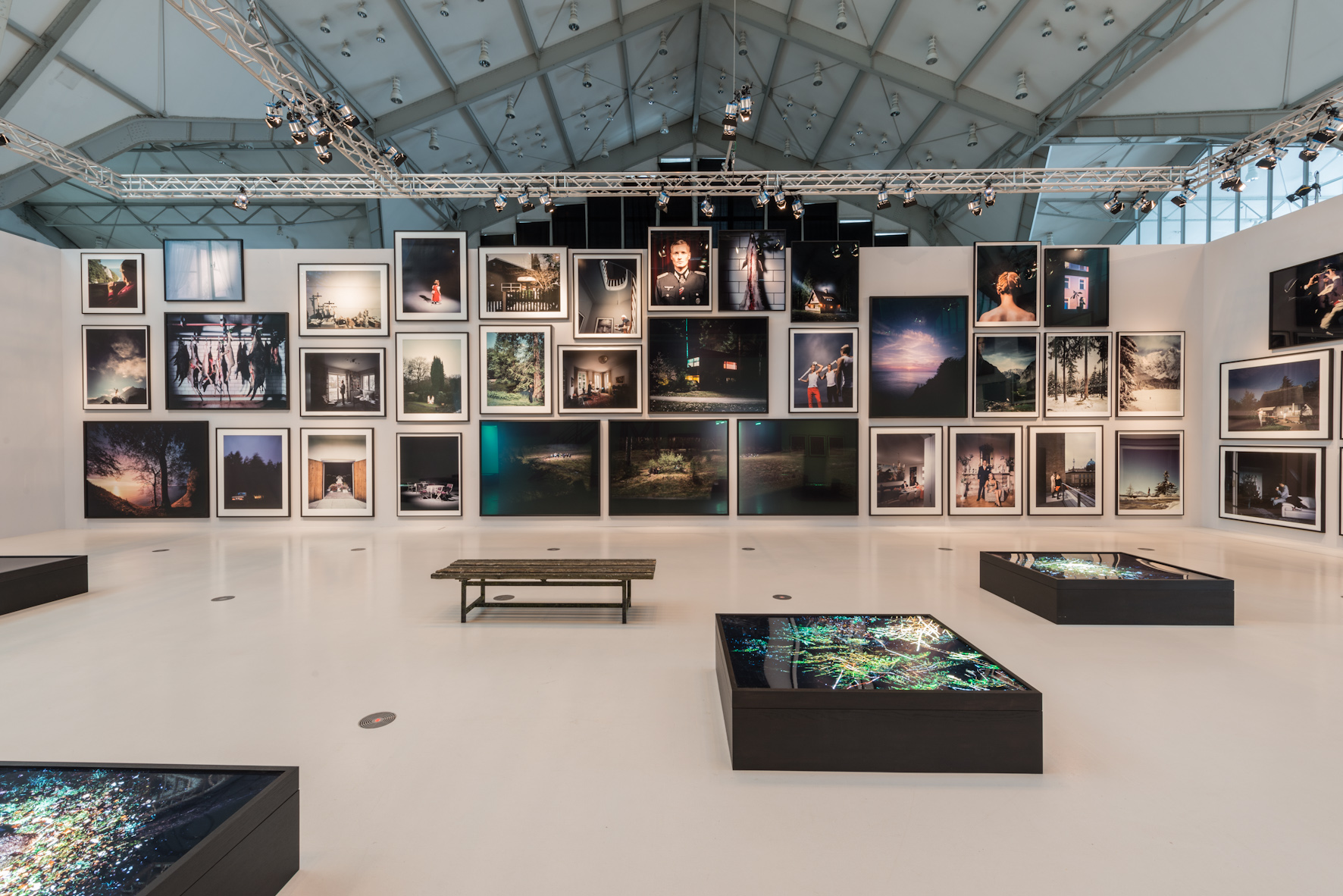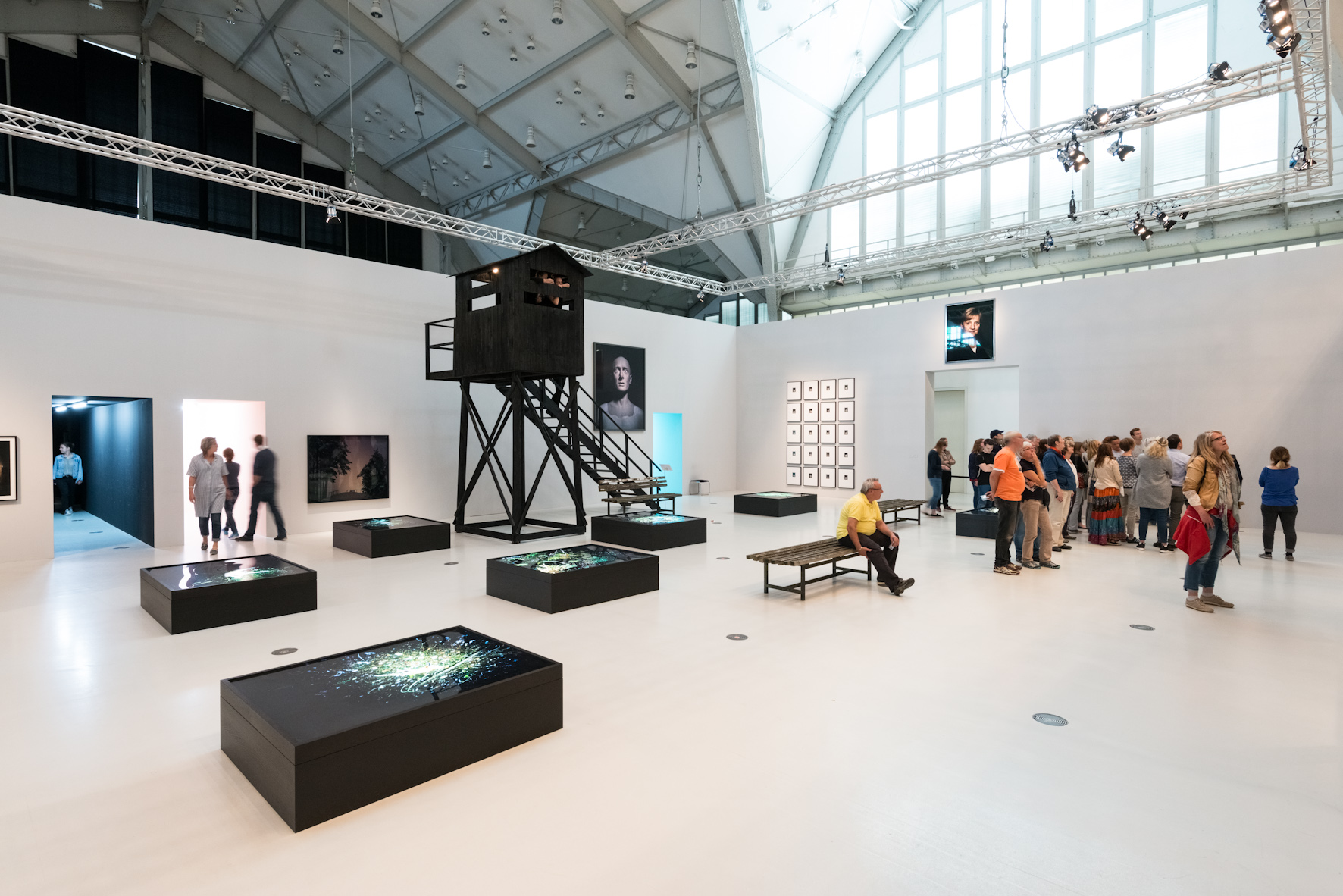 Installationsansichten "Pathos als Distanz", Deichtorhallen Hamburg
Fotos: Annako, 2017
Pathos als Distanz
Deichtorhallen Hamburg
19.05.—20.08.2017

Die in enger Zusammenarbeit zwischen Andreas Mühe und Ingo Taubhorn, Kurator des Hauses der Photographie, inszenierte Ausstellung »Pathos als Distanz« unternimmt den Versuch eines Deutschlandbildes aus den Augen des Künstlers. Arbeiten aus allen Werkkomplexen Andreas Mühes finden im vom »Großen Festsaal« des Hamburger Rathauses inspirierten Hauptraum der Ausstellung im Zentrum des Hauses der Photographie in einer einzigartigen Inszenierung zusammen. Wie selbstverständlich werden Bezüge unter den Bildern aus bekannten Werkzyklen wie »Neue Romantik«, »Obersalzberg« oder »A.M.« aber auch bisher unveröffentlichte Arbeiten aus »Wald« oder »Jagd« sichtbar. Drei gesonderte Kabinette stellen in intimeren Rahmen Arbeiten aus drei Werkkomplexen vor, die als geschlossene Serien gezeigt werden, darunter »Haltung«.
Seine Werke beschäftigen sich mit Stimmungsklischees der Deutschen, Überhöhungen, Inszenierungen und Brechungen des Machtvollen. Jenseits von Heldenposen entsteht dabei bildnerisch geheimnisvolle Präsenz, so etwa in den Fotografien des Arbeitszimmers von Konrad Adenauer, den Häusern der DDR-Oberen in Wandlitz, dem italienischen Botschafter in seiner Vertretung oder den akribisch choreografierten Portraits von Künstlern und Politikern.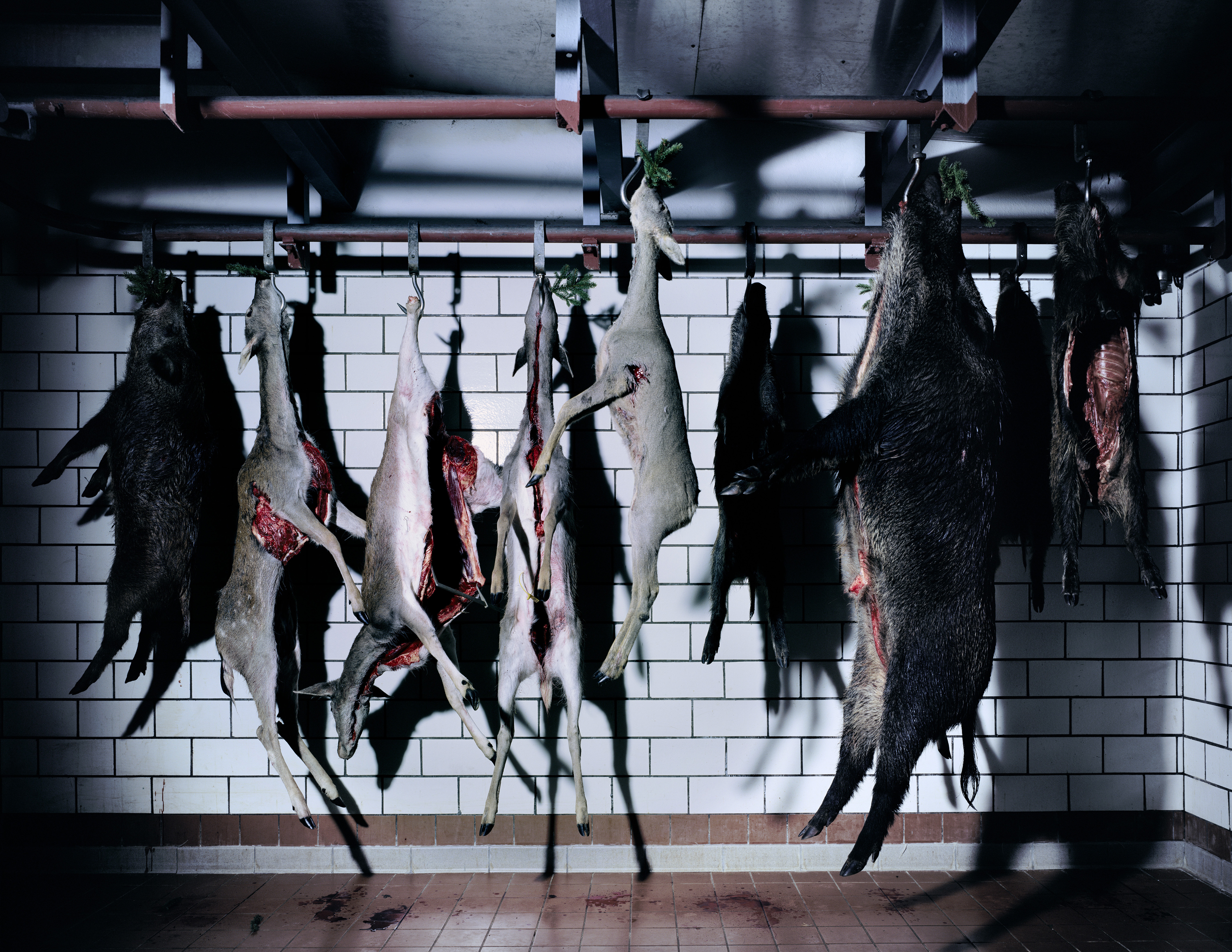 Jagd I, 2016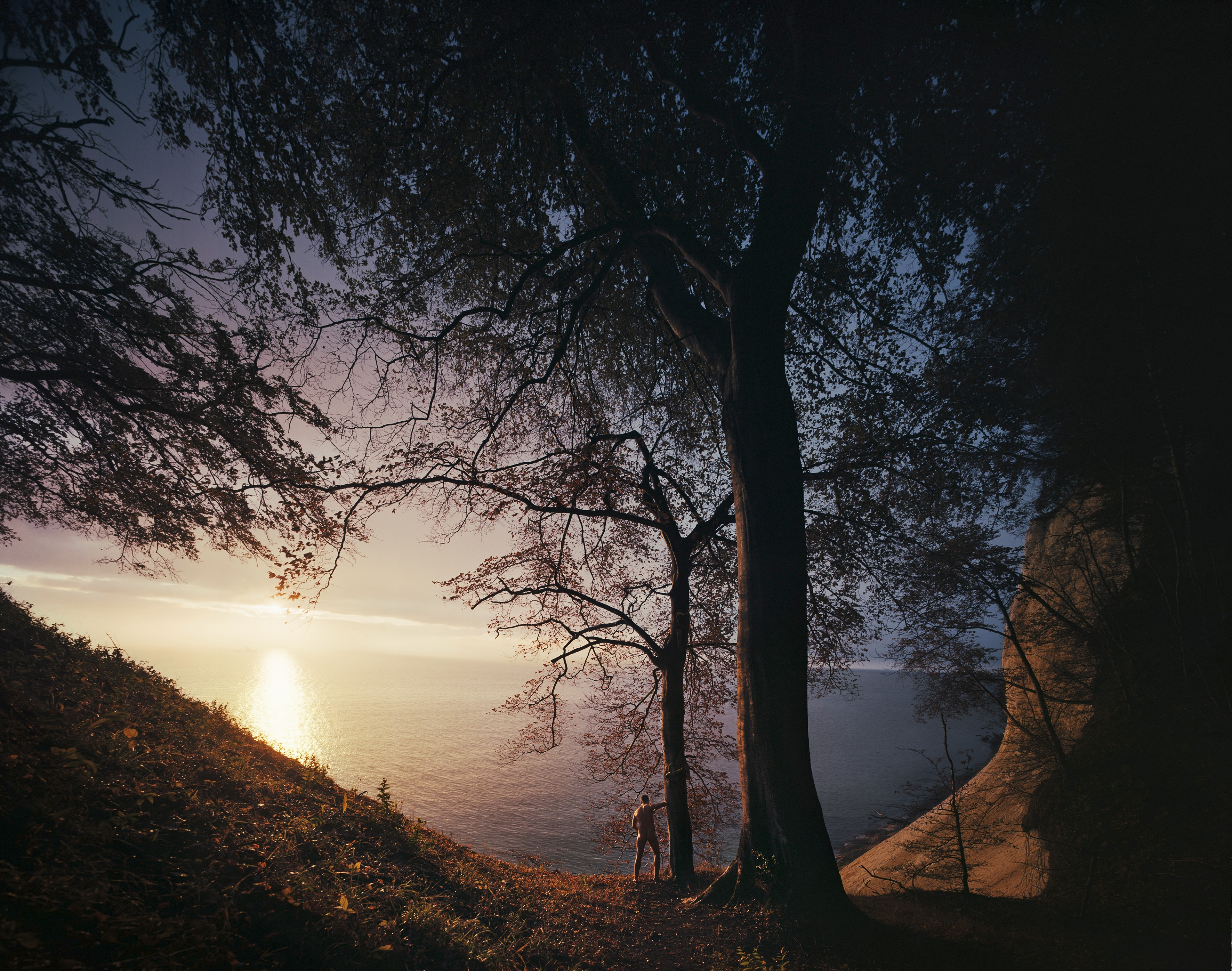 Kreidefelsen, 2014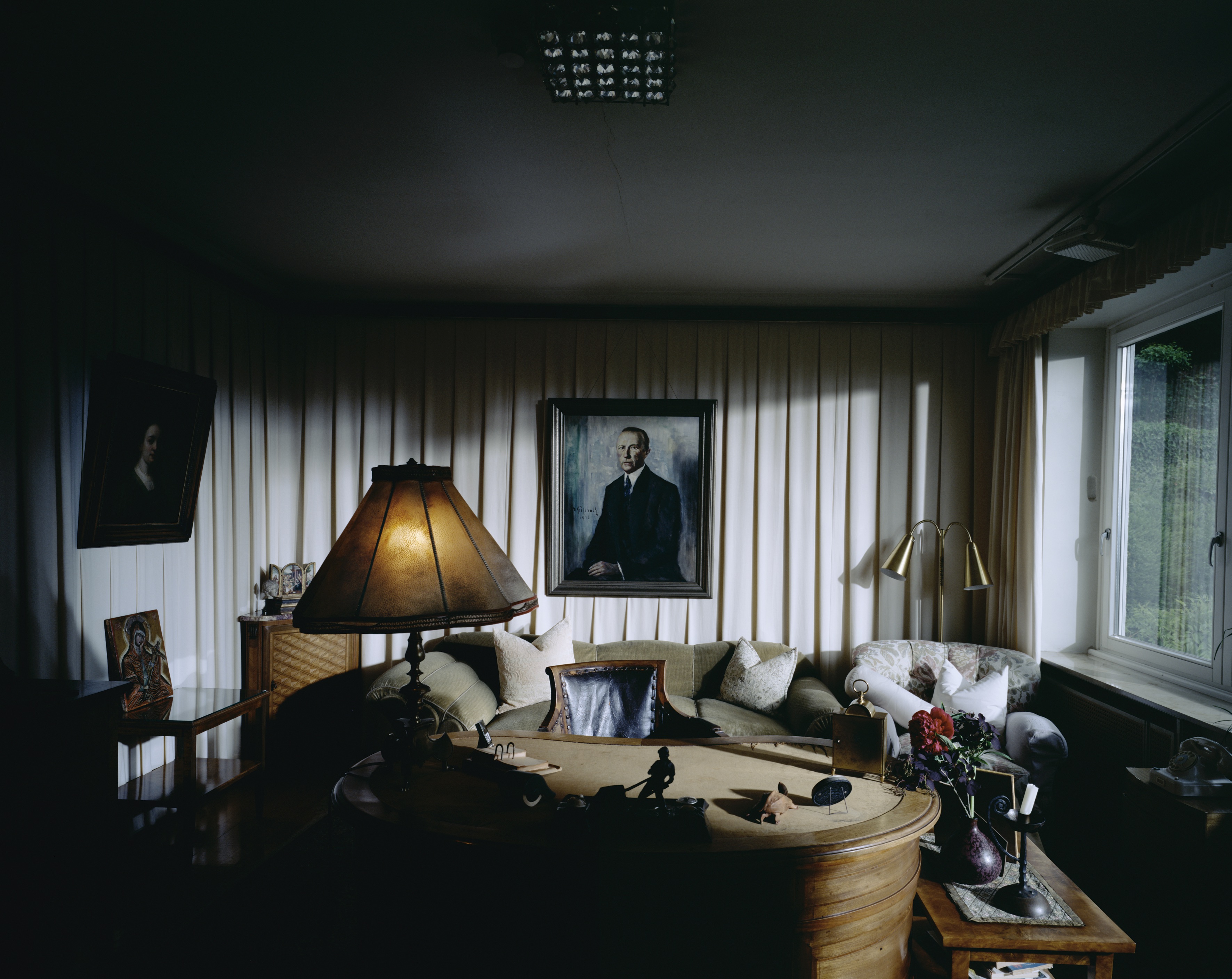 Büro Adenauer, 2011
The exhibition Pathos as Distance, which was developed in close cooperation between Andreas Mühe and Ingo Taubhorn, curator of the House of Photography, brings together older works and new, in some cases previously unpublished photographs. For the first time ever, Andreas Mühe's young and promising oeuvre will be presented in a comprehensive exhibition.
Formally a concept photographer who layers his subjects with references to art history, conceptually Andreas Mühe is an archaeologist who often reveals the makeup of our collective consciousness. The historical context of his pictures blurs distinctions, and the question of the repeatability of a moment—an enduring interest especially of photography — becomes visible in his works.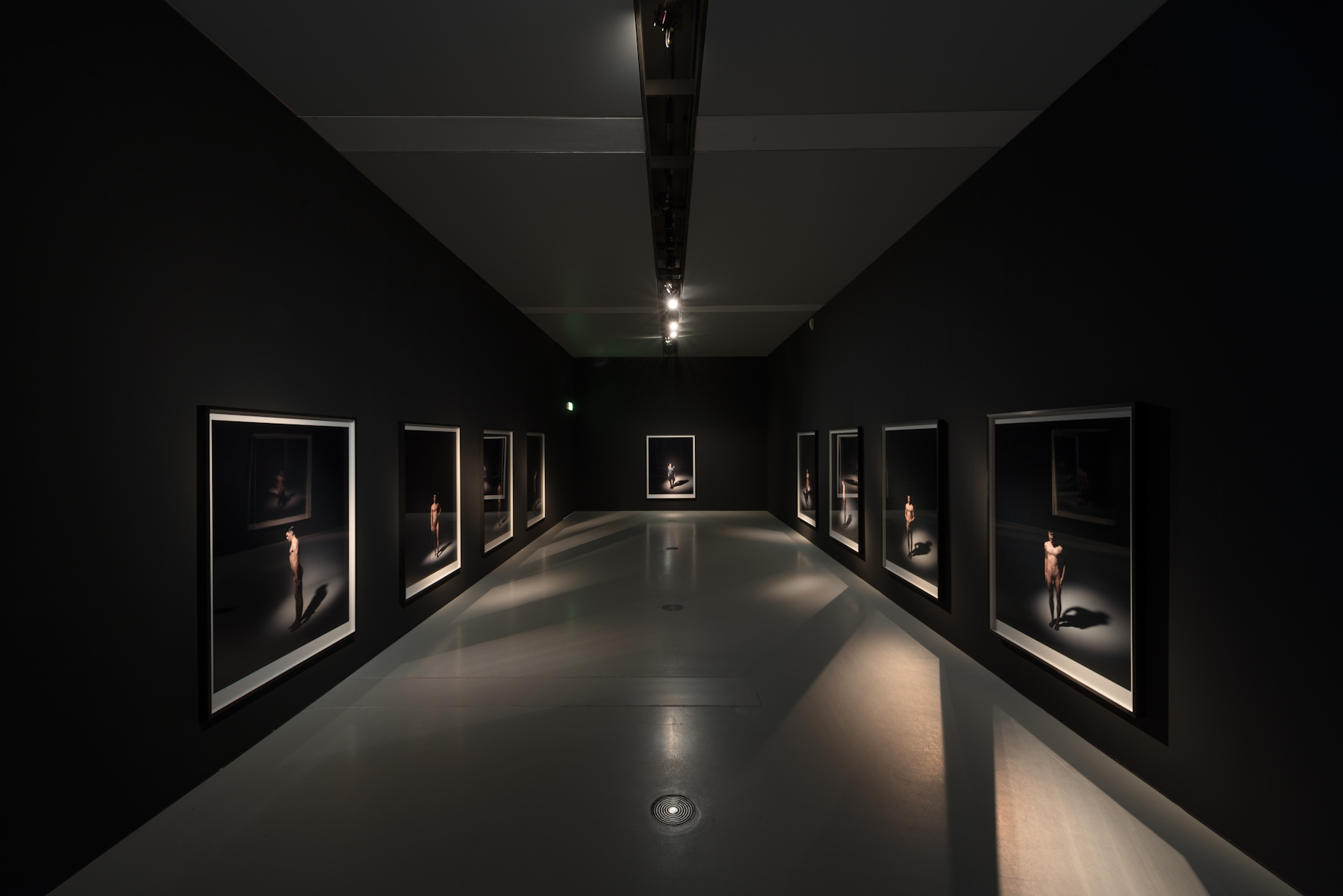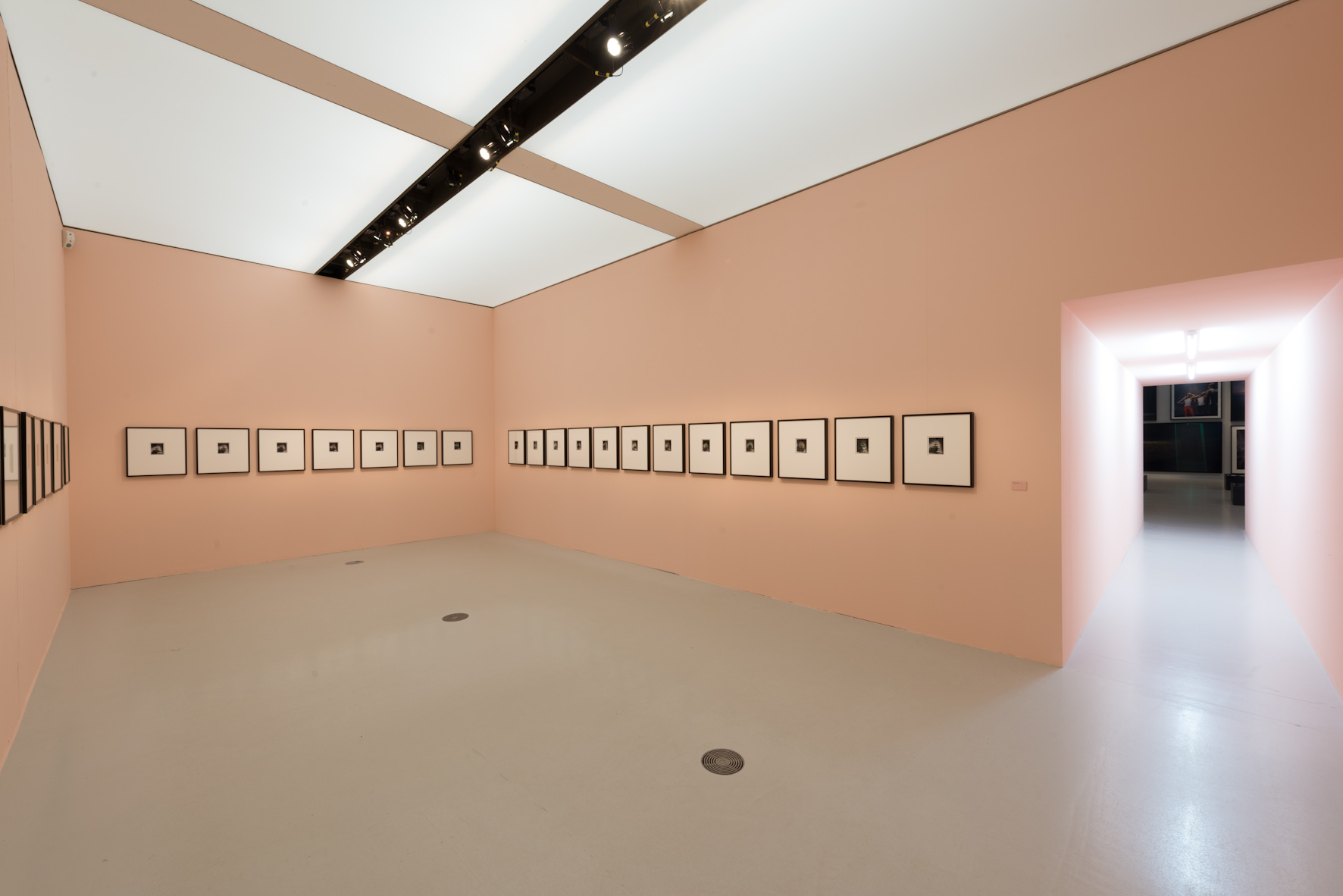 Installationsansichten Deichtorhallen,
Fotos: Annako, 2017
Mühe's works tempt us to make spontaneous judgements. Only on closer examination can we discern whether they show a subjective reality. The fact that he draws essential impressions from his biography and translates them into pictures in no way contradicts this: beautiful aspects that create intimacy are combined with subjects that give pause and create distance. The result is pictures from a rotating present that looks backward as well as forward.
Works from all series and phases of Andreas Mühe's oeuvre will be assembled in a unique presentation in the central hall of the House of Photography, where the common threads that link them will become all the more apparent, including renowned series such as Obersalzberg (2010–2013) and A.M. (2013) as well as previously unpublished works. Three smaller rooms will offer a more intimate setting for the work Haltung from the series Obersalzberg as well as two unpublished series.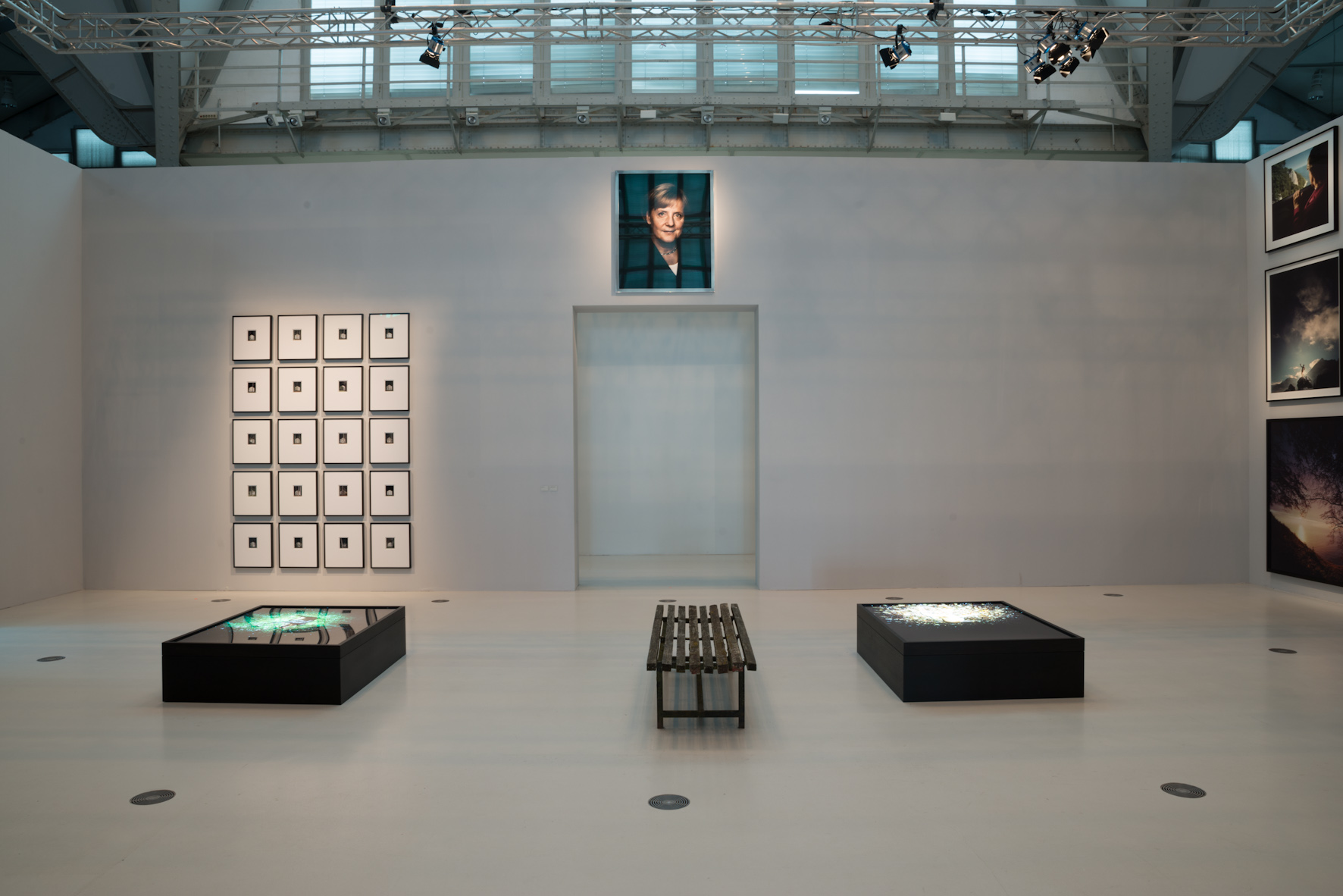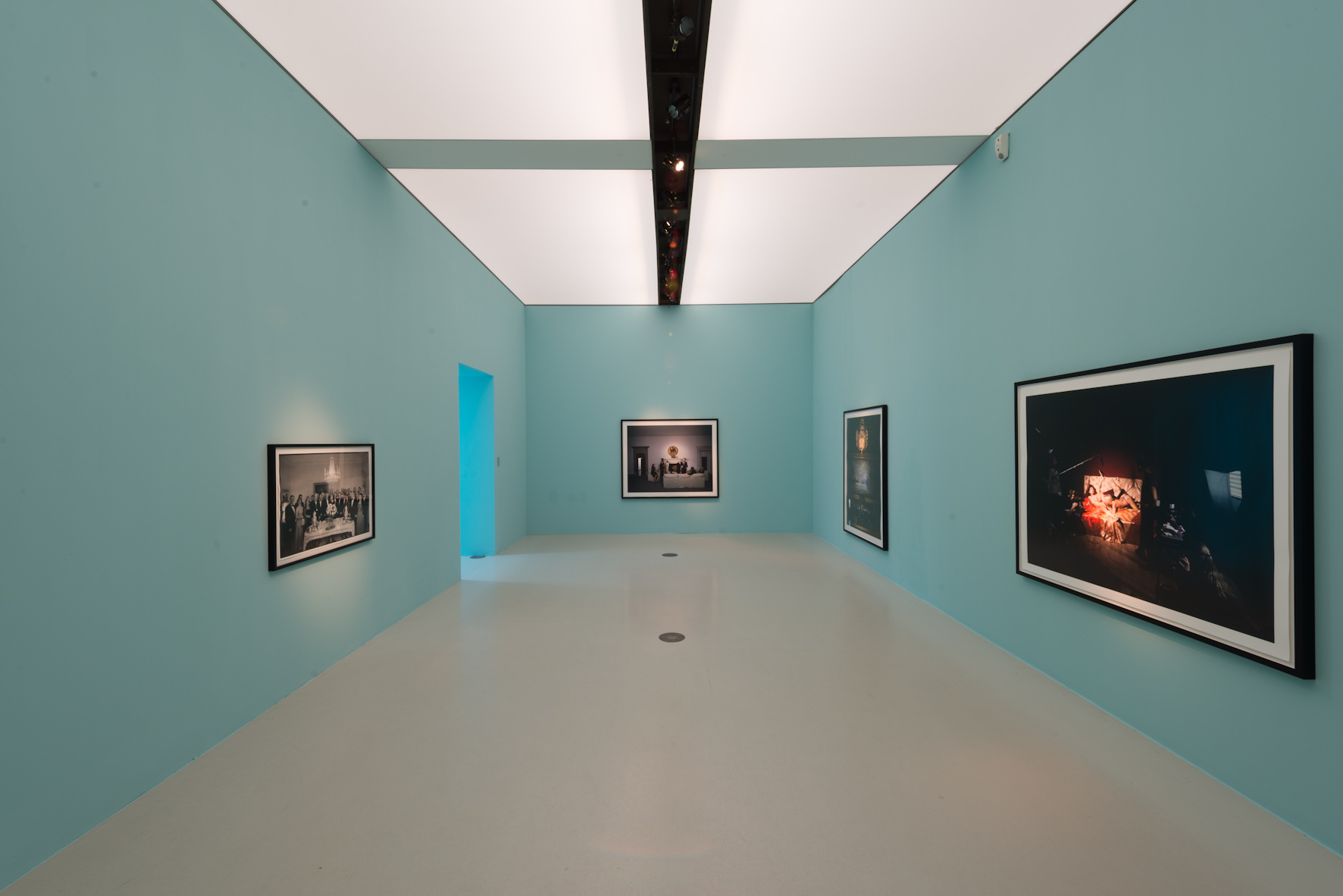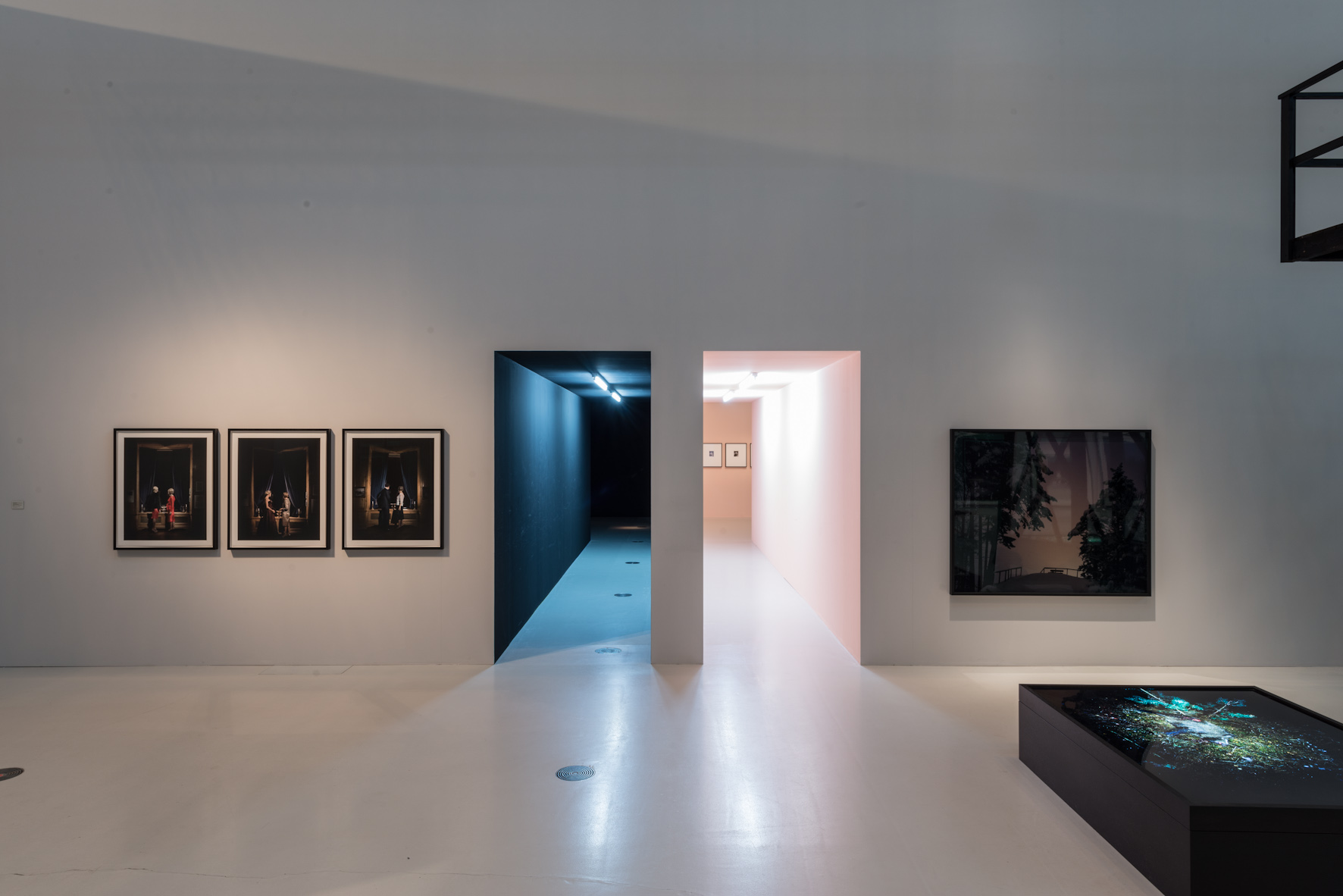 Installationsansichten "Pathos als Distanz", Hamburg
Fotos: Annako, 2017